noma
13/09/2017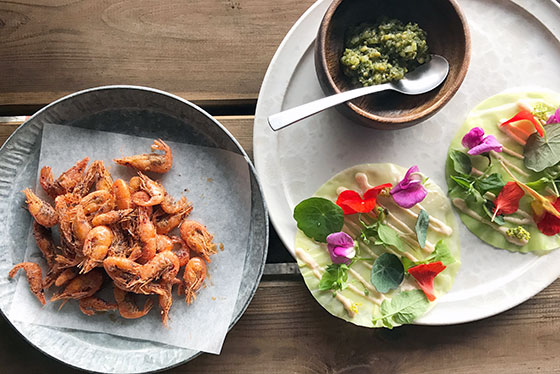 Dear Friends,
We hope your summer has been full of warmth and adventure. It's been a little dreary here in Denmark, but we've managed to have our fair share of excitement.
A few months ago, while crews were performing construction on the space that will house the new noma, they stumbled upon an ancient stone wall buried in the ground. These things are fairly common in a city that is over 900 years old, but we dutifully brought archaeologists out to the site to inspect the wall and determine its origins. After a couple months, they declared the finding to be insignificant, and work resumed, but for that reason, we are delayed until mid-January with the opening.
So far, this summer we've been keeping ourselves busy "Under the Bridge", hosting family-style dinners with a menu inspired by the team's travels. Now, thanks to the delay, we're happy to announce that we're extending our run under the Knippelsbro Bridge by six more weeks.
In addition to the extended dates, we'll also have some friends joining us to help create a new menu for October and November. Torsten Vildgaard, who worked at noma for 7 years, and was most recently the head chef of Studio, just re-joined the research and development team at noma last week. As a member of the noma family, he will also be working closely with the sous chefs Under the Bridge on our fall menu. Richard Hart, former head baker of Tartine Bakery in San Francisco, has just arrived in Copenhagen to open his own bakery. While he is planning for a space of his own, he'll also be lending us a hand and making bread under the bridge. We are really excited to be able to work both Torsten and Richard during our pop-up.
Come and see us, if you can. Bookings for Under the Bridge can be made for October 4 – November 12, and are now available via our booking site. We'll be open seven days a week and the menu will consist of five dishes with a drinks menu included.
As a thank you to those of you who have registered to our newsletter, we have a special link to book that will provide a 10% discount. Please note that we will open bookings publicly on Thursday, September 14.
We hope to see you soon!
Warmly,
noma
Knippelsbrogade 10
DK-1409 Copenhagen K